At Girls Inc., we believe in powerful girls in an equitable society. In 2022, we celebrated new programs and opportunities geared towards equipping more girls across Central Alabama with the skills, support, and resources they need to grow into the new generation of leaders.
We kicked off the year by announcing the launch of Project Accelerate, our new College & Career Readiness Program. Continuing in the spirit of empowering young women to succeed, February brought our first-ever Professionalism Summit for our Teen Leadership participants. In March, we launched our 1st Annual Bold Futures Breakfast! Together, we celebrated the power of mentorships and raised over $130,000 to support Project Accelerate.
Next, we joined together in April for a day of fun and games during our adult field day competition, Play Like A Girl. During April, we also rallied together in support of Child Abuse Prevention Month! We welcomed new faces at our first Volunteer Open House and celebrated all the hard work of our Girls Inc. interns in May. Eureka Camp in June brought even more excitement, especially for the participants who got to explore their future careers with hands-on internships! Many of our girls also had the thrilling opportunity to attend and volunteer at the World Games.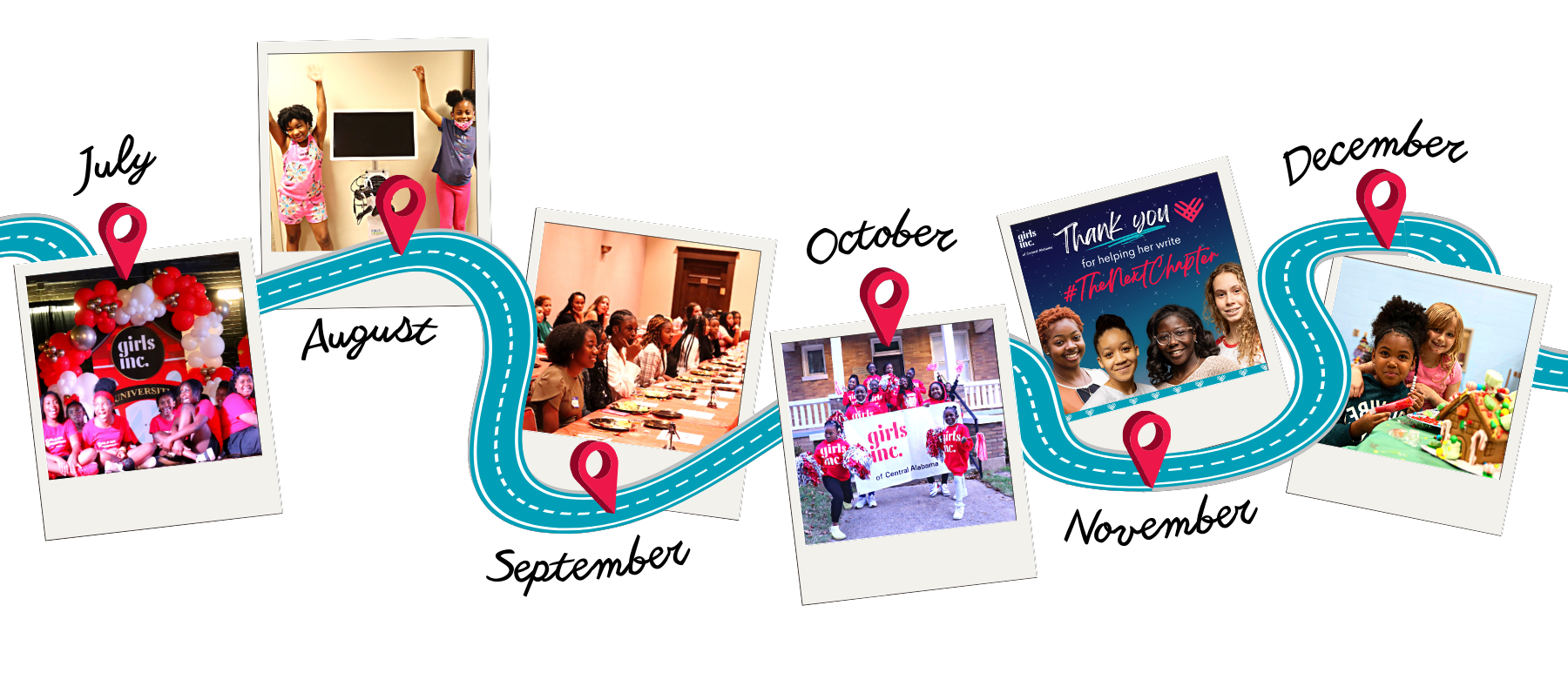 As summer camp came to a close in July, Crestwood girls rocked the stage at the End of Summer Production. August was filled with generosity, with donations of school supplies from Hands On United Way and a game system thanks to Cardz for Kidz. With school back in session in September, we refreshed our collective inspiration with a Staff Retreat. We also hosted the Bold Brunch for our teens at the Birmingham Library, where they learned table etiquette and practiced networking with local female leaders.
October was a month of festivities – from Cocktails for Champions to the Fall Festival and the Magic City Classic Parade! The celebration continued in November as we rejoiced in the best Giving Tuesday EVER. Finally, we wrapped up the year with a busy December between another successful Giving Tree, a Gingerbread Competition, an Empowerment Center Hot Chocolate stand, and launching the National Girls Inc. Alumni Association!
THANK YOU for helping us build the next generation of leaders in 2022. We look forward to another strong, smart, and bold year filled with impact and action!
Click here to view the 2022 Year in Review slideshow!
---
This article was featured in the January 2023 issue of our monthly e-newsletter, The Bold Bulletin. To read more stories like this, sign up below!