On the first day of gardening class, Brianna sat alone. She was overwhelmed and didn't want to go outside with the rest of the girls. Brianna is on the autism spectrum, and struggles with her loud, rambunctious peers. We at Girls Inc. made it a priority to give her the space to feel safe, calm, and understood. On that first day, she sat with a volunteer and colored while the other girls explored the garden.
We knew Brianna might never go into the garden, but we wanted to give her the chance to try. Marlee and Destiny, the AmeriCorps gardening teachers, spent time having patient conversations with Brianna. They helped her know what to expect in the garden, and inspired enough curiosity that Brianna finally decided to go outside with the other girls.
As Marlee and Destiny gained her trust, they saw an incredible change. She happily dug into dirt when it was time for the girls to plant their own seeds, and grew curious about all of the vegetables and herbs that we were growing. Brianna even started asking excitedly every single day to go outside, and would get upset when it was time to leave the garden. Her dad was astonished at how his normally reserved daughter was branching out with confidence.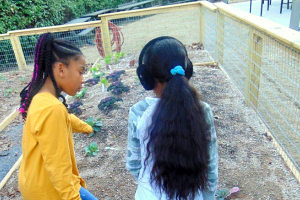 Brianna Blooms
Over the course of gardening class,  Brianna grew and thrived alongside the garden. Marlee and Destiny taught the girls how to nourish plants with water, nutrients, light, and kind words. Walking through the rows, you could hear girls whispering to the broccoli, "Your leaves are beautiful! I am really proud of you." Not only did they practice kind words in the garden, but we saw the girls practice the same kindness towards each other. When Brianna started having a meltdown, her friends pulled her aside and spoke to her with positive language.
We were so proud to see Brianna grow in her confidence and curiosity. She branched out of her comfort zone, and started to trust her peers and teachers. It was truly beautiful to see Brianna bloom and grow. Today, Brianna is talkative, confident, and full of determination. This growth was possible because of the Girls Inc. experience — a supportive, pro-girl environment focused on developing strong, smart, and bold girls.